DUST EXTRACTION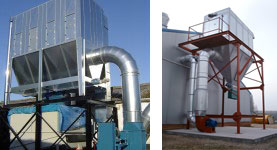 Airteq are a specialists in chip, dust and fume management equipment, As there are many different types of dust filter units available in the market place, making choosing the right system difficult.
Airteq can guide you through the options, giving clear understandable advice about the types of filter available and which would be most suitable for your application.
We provide solutions for small joinery shops, filters for welding rooms and systems to suit school and college classrooms.
We can offer supply only of ducting or can carry out full site surveys and design of your system in any application whether it be ventilation, fume extraction or dust extraction and install your duct system should you require a full turnkey solution.

In addition to dust and fume filtration equipment, Airteq can supply only ducting, flex and fabric filter bags to your requirements.
To ensure you comply with current legislation we offer LEV, COSHH testing and air sampling. All our inspections and tests are fully in accordance with current Health and Safety Executive Control of Substances Hazardous to Health (COSHH) guidelines.
Our engineers are competent in the examination and Testing of Local Exhaust Ventilation Systems. As part of our complete service to our customers and clients, in addition to performing LEV tests.
We can repair LEV systems, fit replacement filter elements, make recommendations for LEV improvements and obtain parts for LEV systems
Airteq provides the following extraction equipment;
MODULAR SYSTEMS
High efficiency filter units designed to offer complete flexibility in the air capacity required and the waste collection method selected. These systems allow all the machines from vaworkshops to be ducted to a single extraction unit.
DUST UNITS
Comprising of one or two units which can be located next to individual machines and electronically interlocked with them to turn on and off automatically were required.
Airteq Ltd, manufacture our own 3 and 4 bag dust collectors at our fabrication Facility. Our Open Bag extraction units are designed as an inexpensive method of collecting sawdust and chipping combining air re-circulation within the workshop and simple quick release waste bag removal.
FINE DUST UNITS
Self-contained units with large filtration areas allowing airflow ratio to control finer dusts
SHAKER FILTER UNITS
Designed for fine dusts generated from sanding machines etc.
AIRBENCHES/DOWN DRAUGHT TABLES
These tables are ideal for use with hand tool operations that produce dust or fumes.
SPRAY BOOTHS
Spray booths or rooms for use when spraying materials. Available in varying size to suit the customer's needs
EXTRACTION HOODS
Bespoke extraction hoods and manifolds are designed and manufactured by Airteq at our facility. We manufacture hoods to extract effectively from all source types.
METAL PARTICLES
Machines such as polishers and grinders have their own capture hoods which can be connected on to one of our mobile separator units to provide effective extraction.
WELDING FUME ARMS
Suitable for use with welding or general fumes. The arms can be self supporting flexible in all directions or mobile.
FABRIC FILTERS
We carry a range of fabric filters in a wide range of filter media that fit all leading makes of extraction unit. One-off's can be made to replace obsolete brands.
AIRFLOW INDICATORS
We install a range of both mechanical and electrical pressure gauges suitable for negative pressure systems.